1st-3rd Gathering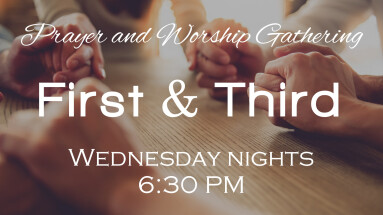 Hope Church desires to be more committed to and intentional in prayer,
in obedience to God's Word and following the example of our spiritual forefathers. One way to implement prayer with real intentionally is to have bi-monthly prayer "gatherings" (e.g., concerts of prayer) hence First-Third Gatherings.
These gatherings will take place in the middle of the week on the first and third Wednesdays of each month at 6:30 pm from September to May. These gatherings will begin with some heart-preparing songs and a brief devotional before leading into an intentional time of corporate prayer that will be led by an elder/pastor.
In the midst of the busyness of life and ministry,
let us be a people who follow the response of the apostles in Acts 4:4: "But we will devote ourselves to prayer and to the ministry of the word."
Dates (fall 2017-spring 2018)
September 6 and 20 January 3 and 17
October 4 and 18 February 7 and 21
November 1 and 15 March 7 and 21
December 6 and 20 April 4 and 18
May 2 and 16